Experimental setup and configuration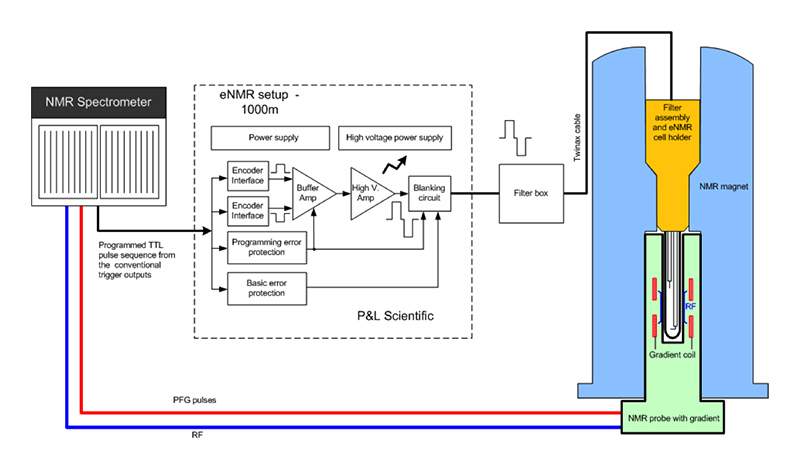 The complete eNMR package contains:
eNMR interface and pulse generator with embedded high voltage amplifier

Designated high voltage output (HVO) cable including an embedded filter box, custom length***

Standard bore NMR holder for 5 mm sample diameter with its embedded filter***

1 set of palladium electrodes in a glass capillary, for 5 mm samples.

Test sample (10 mM TMABr in D2O) for installation and performance tests

Double stimulated echo eNMR pulse programs

User guide and installation manual

Test sequence generator and dummy load
Requirements to run the instrument at your lab:
Standard bore magnet*

Conventional 5 mm probe(s) with gradient capability for the desired nuclei*

2 external trigger lines with output under pulse program control**
*Setups for wide bore magnets and/or 10 mm probes are available as options.
**Bruker trigger outputs are available either from a Burndy connector (rear panel for DMX, DRX) or from a TCU or IPSO unit (front panel for AVANCE I, II, or higher)
***For resonance frequencies 50 MHz and higher.